If you rely on a GPS to get you from point A to point B, you're not alone. A lot of drivers turn to mapping technology to keep them from getting lost or just simply to avoid the most congested route home. Some cities in the U.S. have a higher number of GPS-reliant drivers than others. A new United Tires study set out to "map out" which ones. UTires surveyed over 1,200 residents from the top 20 cities in the United States that feature the most cars per person to determine how much they rely on their GPS and how they are using it.
93% Of Drivers Depend On GPS
The majority of survey respondents need a GPS to get around. In fact, researchers say 93% said they were dependent their GPS and 1 in 5 use it every day. 83% of respondents said they would get lost without it.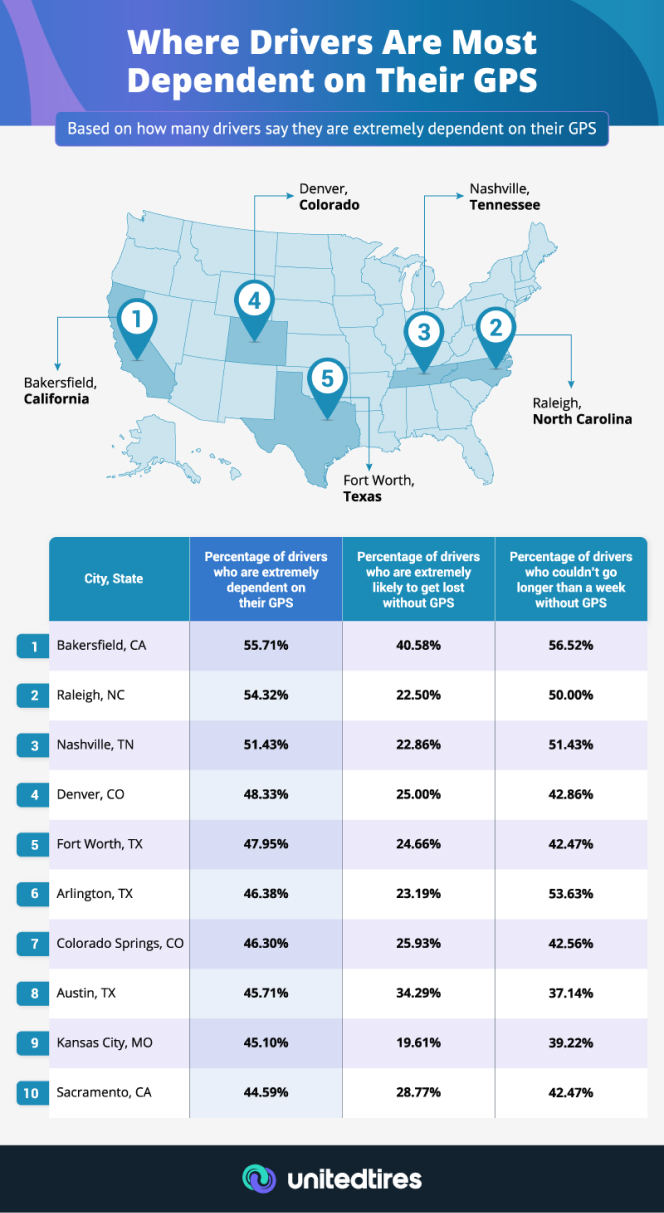 Three Texas cities and two California cities make the top ten list of places where drivers are the most dependent on their GPS.
Researchers found that drivers in Bakersfield, Raleigh, and Nashville are most dependent on their GPS when driving. Those cities are followed by Denver, Fort Worth, Arlington (TX), Colorado Springs, Austin, Kansas City and Sacramento.
Google Maps Is #1
The survey found that on average, just over 60% of American drivers use a GPS service at least once a week. While there are several GPS options to use, Google Maps is the clear map leader. About 63% of respondents prefer Google's platform to its closest competitor, Apple Maps, which is used by only 14% of respondents. Waze came in at 5 percent.
You can forget about paper maps, too. 1 in 5 (71%) of GPS users surveyed said they've never used a paper map for directions, and 17% wouldn't be able to find their way with one.
When it comes to issues with the technology, drivers reported being most frustrated (57%) with lost signal issues followed by not having enough time to comprehend directions (39%).
GPS Dangers
There are some dangers revealed in the survey. The study reveals that 2 in 5 of drivers surveyed admitted to driving dangerously to beat their estimated arrival time.
Also over half admitted to using GPS even though it was distracting- more so than traffic and music. 44% of drivers said they program their GPS while driving and nearly 2 and 5 reported getting into an accident while using it. 46% of drivers surveyed also admitted to experiencing road rage while using their GPS.
UTires shares some great safety tips when it comes to using your GPS. Program your trips before you drive. If you have to update a direction, find a safe place to pull over to. And don't get angry at other drivers over a GPS incident.
For more on the study click here.
---
Photo Credit: Handatko/Shutterstock.com.